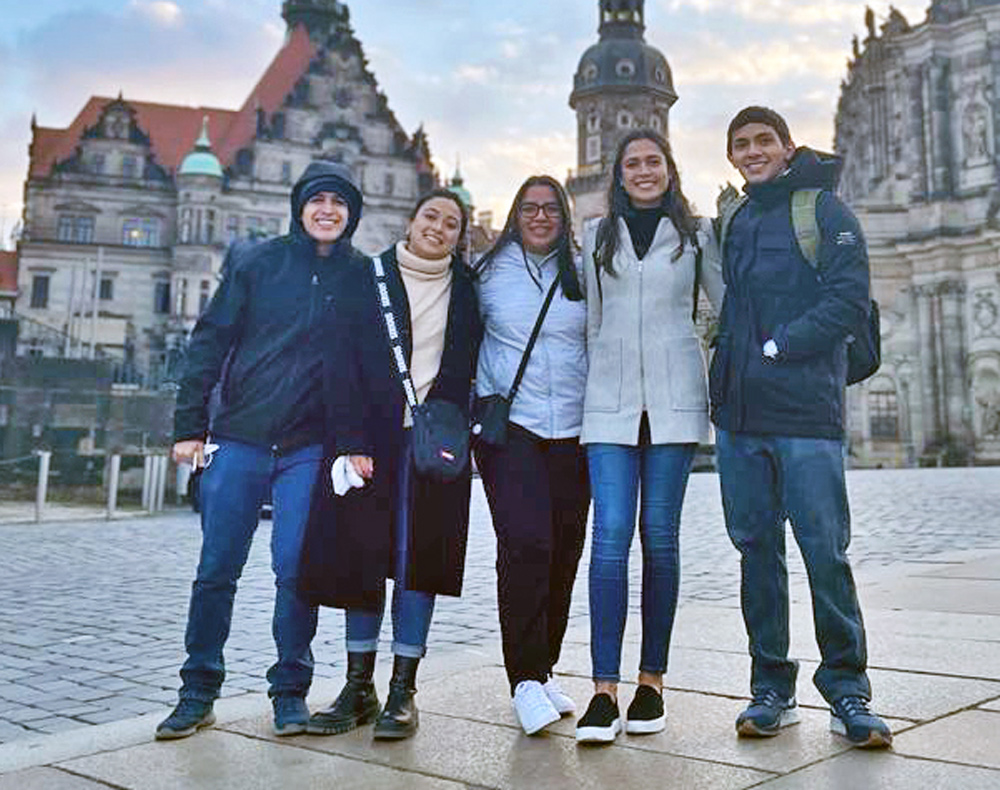 Eintauchen in fremde Kulturen, Verbesserung der Sprachkenntnisse, Aufbau eigener internationaler, interkultureller Erfahrungen und Netzwerke – es gibt viele Gründe, die für ein Auslandsstudium sprechen. Für Studierende, die einen Teil ihres Studiums im Ausland verbringen wollen, gibt es neben sprachlichen Barrieren viele weitere Herausforderungen, die bei der Organisation zu bewältigen sind. Nicht zuletzt müssen die verschiedenen Studienleistungen in den verschiedenen Ländern zueinander passen, damit sie für einen Abschluss anerkannt werden können. Ein Studienaufenthalt im Ausland ist für jeden einzelnen eine größere persönliche Herausforderung.
Um Auslandsaufenthalte effektiv zu fördern haben europäische Hochschulen verschiedene Austauschprogramme entwickelt. Eins der größten und bekanntesten Austauschprogramme ist das ERASMUS+ Programm der Europäischen Union. Zentrale Bestandteile dieses Programms sind die Anerkennung von Studienleistungen im Ausland anhand des European Credit Transfer Systems (ECTS) und die finanzielle Unterstützung von Austauschstudenten. Die Professur für Ingenieurholzbau der Fakultät Bauingenieurwesen unterhält seit 2019 eine Erasmus+-Kooperation mit der Fakultät für Ingenieurwesen der Universidad del Valle de Guatemala. Nach drei Jahren Laufzeit gestaltet sich die Zusammenarbeit sehr erfolgreich, in diesem Sommer wurde diese Vereinbarung deshalb um weitere drei Jahre verlängert. Neben Studienaustauschmöglichkeiten, beinhaltet die Partnerschaft auch einen Austausch unter den Mitarbeitern. Im Sommer waren zwei wissenschaftliche Mitarbeiter der Professur in Guatemala, ein Kollege aus Guatemala arbeitet zur Zeit in Dresden. Die Studierenden aus Guatemala besuchen in Dresden den englischsprachigen Studiengang ACCESS, fünf von Ihnen geben Einblicke in ihr Sommersemester in Deutschland, an der Technischen Universität Dresden.
Andrea Dardón I am very grateful for the opportunity to have lived this experience as an Erasmus student. During these 6 months I grew a lot as a person, I learned to stand up for myself, to be independent and responsible. Also, having the opportunity to meet and share with people from all over the world is a unique experience, it is very nice to learn about their culture, beliefs and cuisine. The people I met along the way became very important people in my life, very strong bonds of friendship were formed. We shared many beautiful moments, we cooked, traveled, got together to eat and share, these are moments that I want to remember for a lifetime. My experience studying at the TU Dresden was very enriching, the way of teaching and examining is different from what I was used to, but with time I was adapting. I liked that in Germany they are very supportive of the student from providing comfortable accommodation, transportation service and cafeterias like Mensa. Dresden is a beautiful city, full of history and beautiful places, it is definitely my favorite city. I want to thank UVG and TU Dresden for giving me this opportunity to live this unique experience
Lourdes Barth These last few months living in Dresden as an Erasmus student has given me one of the best experiences of my life. In addition to the opportunity to have received a complement in my education and learn from another world. The experience of living abroad leaves much more than a university education, it allowed me to open to new cultures, traditions, ideologies and history. During my stay I learned about the contrasts between our educational system and the European system; Although at the beginning it was a bit complicated to adapt, after a couple of weeks everything went naturally, we got to know the university and the wide range of interesting courses, not only engineering but also languages. Personally, being able to reach a basic level of German was most satisfying, as was completing my classes within the ACCESS program. Germany is a country that opened doors for us, gave us facilities to establish ourselves as foreign students, helped us to adapt easily and allowed these months to become a life-changing experience. I give my grateful thanks to the ERASMUS program and UVG for allowing me to enjoy this amazing opportunity.
María José Castañeda Having participated in the Erasmus exchange was a unique experience. It exceeds expectations, as one has the opportunity not only to meet people from all over the world, strangers who become friends and then family, creating a home away from home. For me it was very nice to experience independence, having to make decisions on my own helped me grow personally. TU Dresden offers very interesting courses and I liked that the teachers were experts on the subject. I quite liked that the university is interested in the welfare of the students and also that there are many activities for us to get to know and enjoy our stay in Dresden. Being in a city like Dresden with so much history makes the stay interesting, since even one of the university buildings served as a prison in the Second World War. In conclusion, this was a unique and incomparable experience, enriching, fun, which I enjoyed very much and I am grateful to have been part of it.
Javier García The exchange experience through the Erasmus+ program was one of the best experiences of my life. Dresden is a city full of history with beautiful architecture, and is very friendly to foreign students. Saxony is full of magical places where I wish time would stop to enjoy every landscape and every detail. I am very grateful to have been able to live this experience, the staff of Erasmus and Leonardo Buro Sachsen were very friendly and willing to help me during the whole process.To have been able to work under the supervision of German TUD professionals was a great honor. The teachers were always supportive and friendly. Living in Dresden helped me to grow professionally and personally. I learned a lot of valuable knowledge and also learned a lot about myself. I also met very nice people from different parts of the world and the cultural exchange was valuable. Friendships were made that I know will continue even though I am now back in Guatemala. I pray to God that I will be able to return to Dresden in the future. Once again I thank Erasmus+, the international office, Jens Hartig and Roberto Godo for this opportunity.
Diego Pérez The Erasmus experience is not only a student exchange program, where it is possible to study in a different country, but also a great way to know about cultures and lifestyles that enrich your personal growth and aid in defining future objectives and dreams. Here in Germany, I was able to study master courses focused on structural engineering, like Computational Dynamics and Bridge Engineering. These new concepts allowed me to have a broader understanding of topics that I am passionate about, and helped me determine a major future goal: I want to study a Structural Engineering master. As important as this is, I also greatly enjoyed my time living here by meeting new people from different nationalities and traveling to several countries. Personally, I was also amazed by the cultural and technological advancements that are present here and lacking in my own country. I will never forget experiencing riding my first train, going to classical music concerts, or simply eating a bratwurst and drinking water from the faucet. This experience has opened my eyes. I want to thank the team from TU Dresden and UVG for giving me this opportunity!